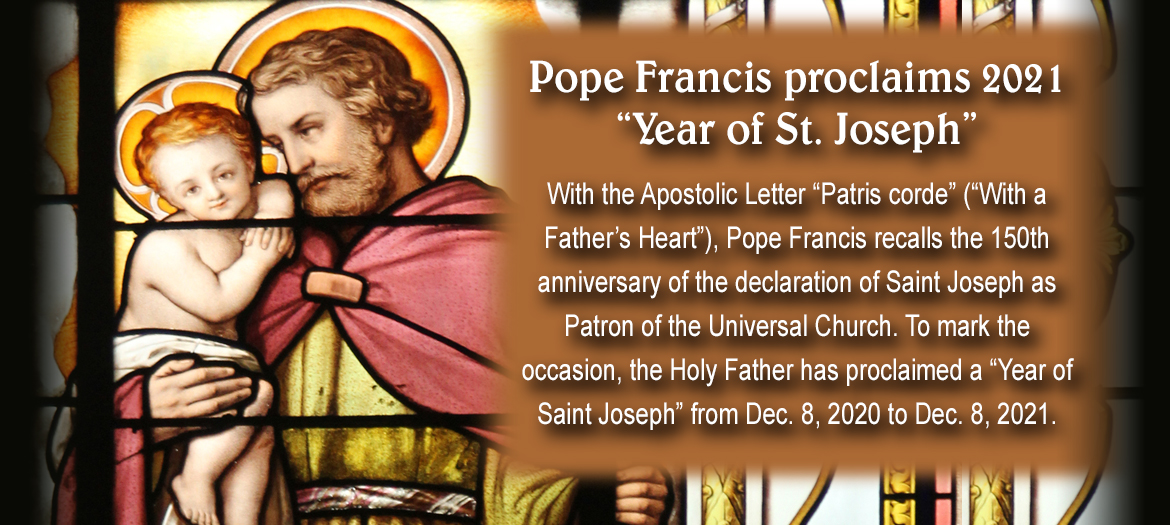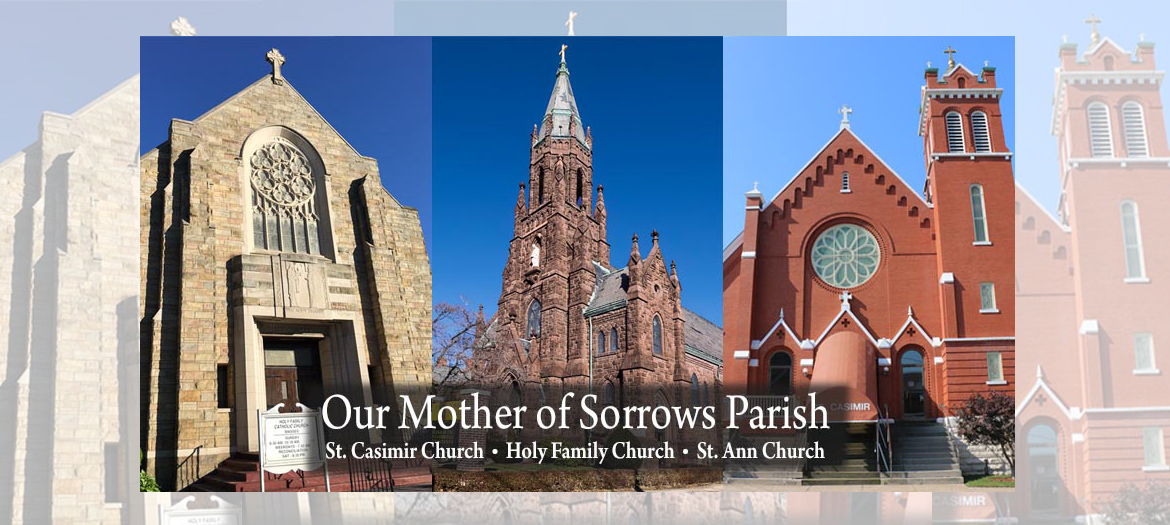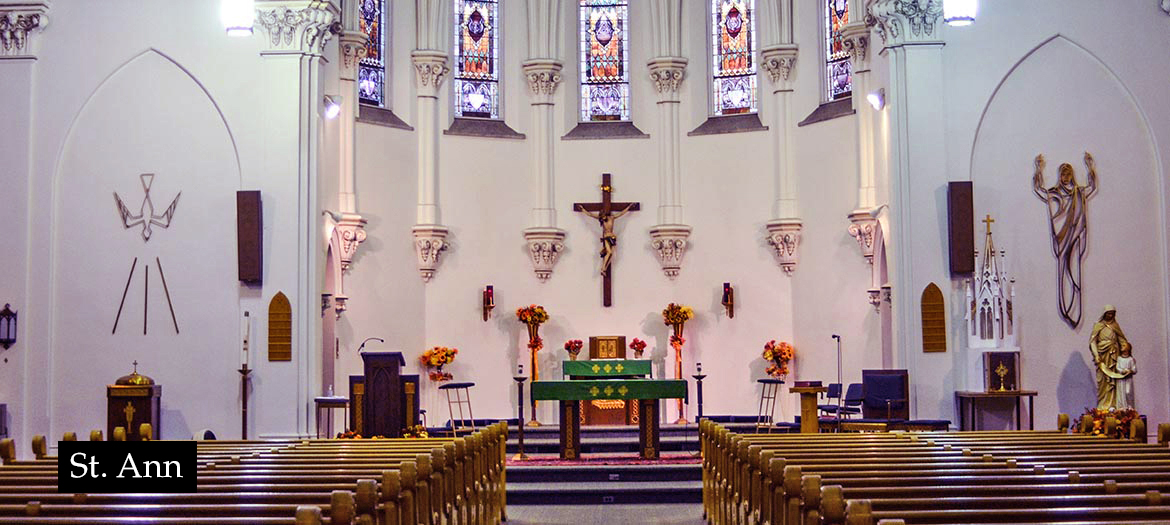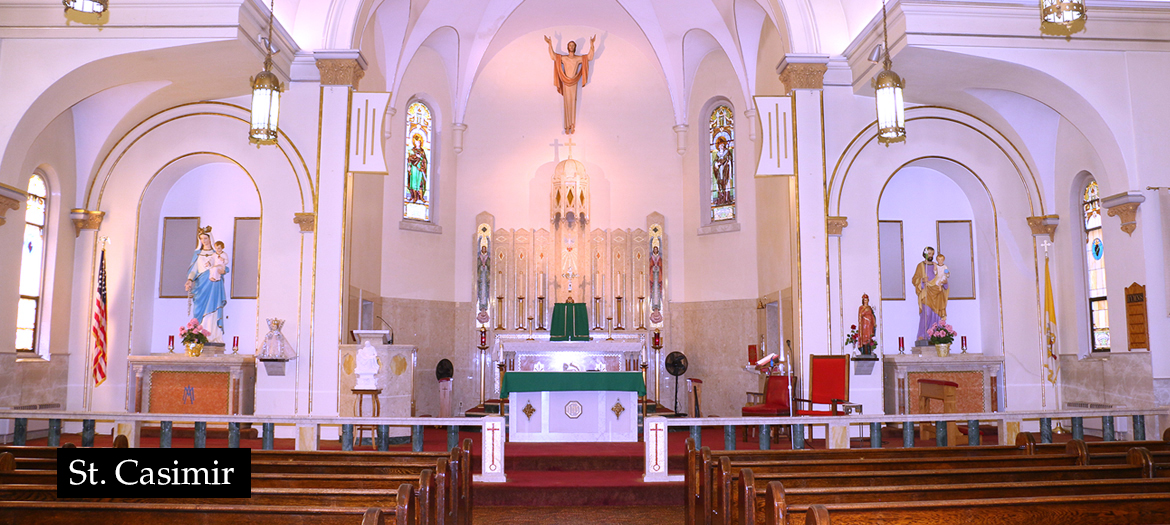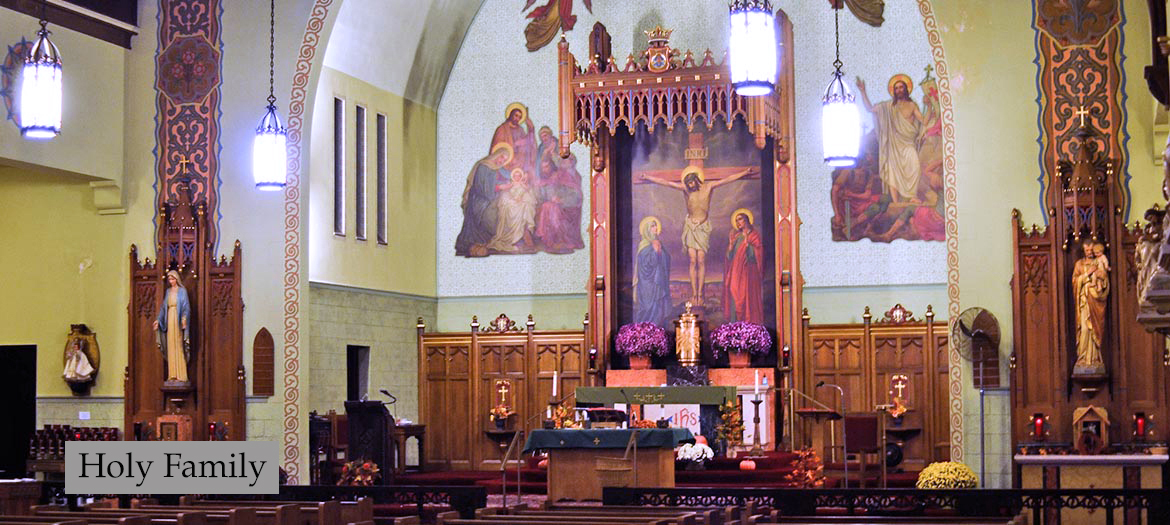 Welcome!
Our Mother of Sorrows Parish is a wonderful welcoming Family of Faith located in Erie, Pennsylvania. Along with St. Casimir, Holy Family and St. Ann in Erie, Pennsylvania, we are a great community with three wonderful places to worship. As the People of God, we rejoice in doing our very best to live and love like Christ! We are committed to loving God, loving others, and making disciples. Founders, long-time parishioners, newcomers, and those visiting the area are all welcome. May the Lord's every blessing be yours today and always!


Masses for Ascension Thursday: 12:05 pm at St. Ann, 4:00 pm at St. Casimir, 5:30 pm Latin Mass at St. Casimir


In honor of May being the month of Mary, the Junior Legion of Mary will have a prayer service on Thursday, May 20th at 7:00 PM at Holy Family Church. The theme is "A Portrait of Mary". The prayer service will be followed by the Rosary for the intention of an end to the COVID 19 pandemic, as part of the "marathon of prayer" asked of us by our Holy Father Pope Francis for the month of May.
International Needs Collection
On May 16 our parish will take up The Catholic Relief Services Collection. It is a combination of the Collection for the Church in Central and Eastern Europe, Africa, and Catholic Relief Service. Funds from this Collection provide food to the hungry, support displaced refugees, and bring Christ's love and mercy to vulnerable people here and abroad. Please give generously to the collection and help Jesus in disguise. Envelopes for this collection are on the table in the middle of the aisle as you enter church. Learn more about the collection at www.usccb.org/catholic-relief


What We are Created For
One day, as usually was the case, in this section of a city, a little girl, stood at the street corner begging for food, money or whatever she could get. Now this girl was wearing very tattered clothes, she was dirty and was quite disheveled.
As it happens, a well-to-do-young businessman passed that corner frequently without giving the girl a second look. But one particular day when he returned to his expensive home, his happy and comfortable family, and his well-laden dinner table, his thoughts returned to the young girl and he began to feel angry and guilty. He became angry at God for allowing such conditions to exist and he reproached him saying, "How can you let this happen? Why don't you do something to help this girl?" Then he heard God in the depths of his being respond by saying, "I did. I created you!"
In our gospel today Jesus commands his disciples to love one another as he has loved them. This does not mean tolerating or being nice to each other, but rather they must be willing to lay their life down for one another, not only in physical death if need be, but also by caring for each other. The love Jesus is talking about goes beyond mere sentimentality and the way love is often trivialized and portrayed in popular culture. It is a love that calls us to look out for the needs of each other, a love that requires action in addition to words.
The same command Jesus gave the disciples is extended to us. Jesus uses each and every one of us to express his love here on earth which means we become his hands and feet, his smile, his loving voice, and his caring arms. That is what we are created for.
By giving to those in need, we develop a deeper appreciation for the unconditional love God has for us. After all, where would we be today without the love that others have shown to us? Genuine love is unselfish.
Still, there are many around us like that little girl on the street corner, lonely, desperate and begging for genuine love. Where will they find it? Who will do something about it? Isn't that what we are created for?


To learn more about the Traditional Latin Mass or to keep up with what is is going on in the community visit: https://www.latinmasserie.org

If you would like to follow along with the readings at mass and have a smart phone, they are available at the site for the U.S. Conference of Catholic Bishops at: https://bible.usccg.org/ There are also many free apps in the format of missals that contain the readings and the parts of mass. Just search your app store to find one.
Livestreamed Masses throughout the Diocese of Erie: https://www.eriercd.org/livestreammass.html

Please Remember to pray Bishop Persico's "Prayer in Time of Pandemic" every day at Noon or whenever you can. A link to the prayer is at www.ErieRDC.org.
Mass Times
Daily:
St. Ann: Monday through Friday 12:05 p.m. (Confessions prior to mass), First Saturday Mass at 9:00 a.m.; St. Casimir: Wednesday at 5:30 p.m. (Latin Mass)
Sunday:
St. Casimir: 9:30 a.m. (Latin Mass), 11 a.m. (Confessions prior to both masses)
Holy Day Mass:
Call the parish office at (814) 452-4832
Holy Day Vigil:
Call the parish office at (814) 452-4832