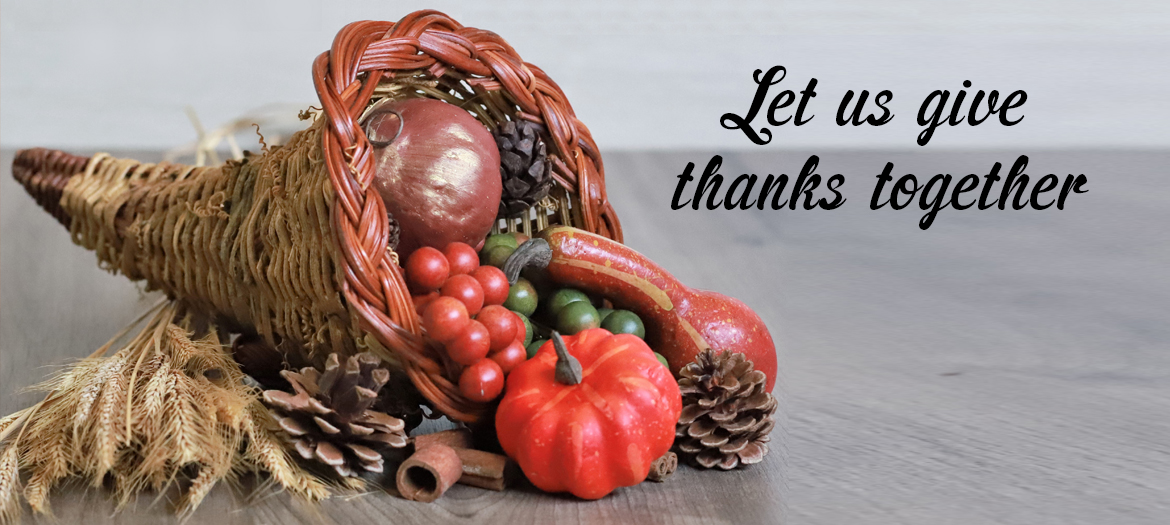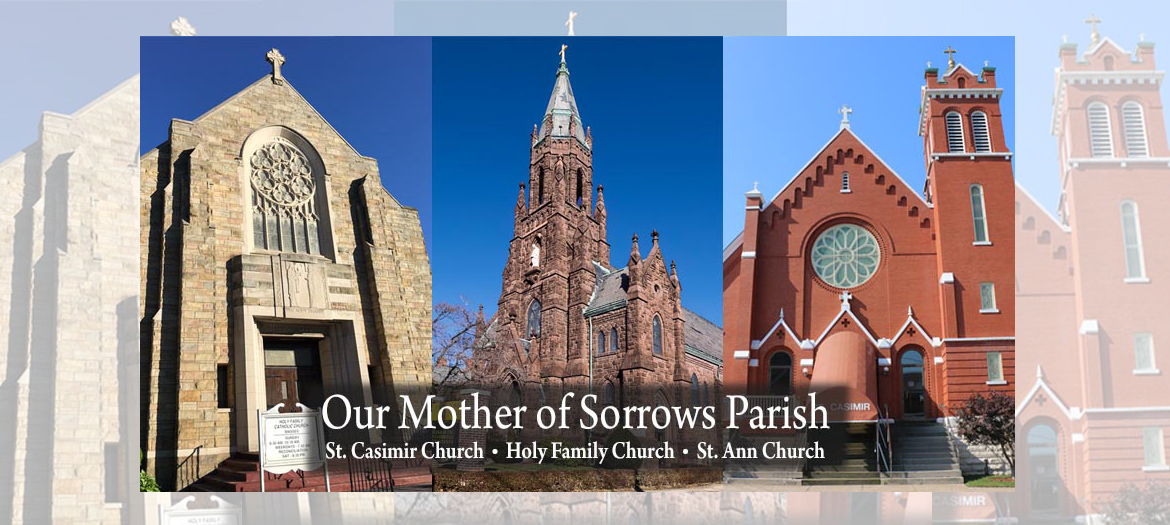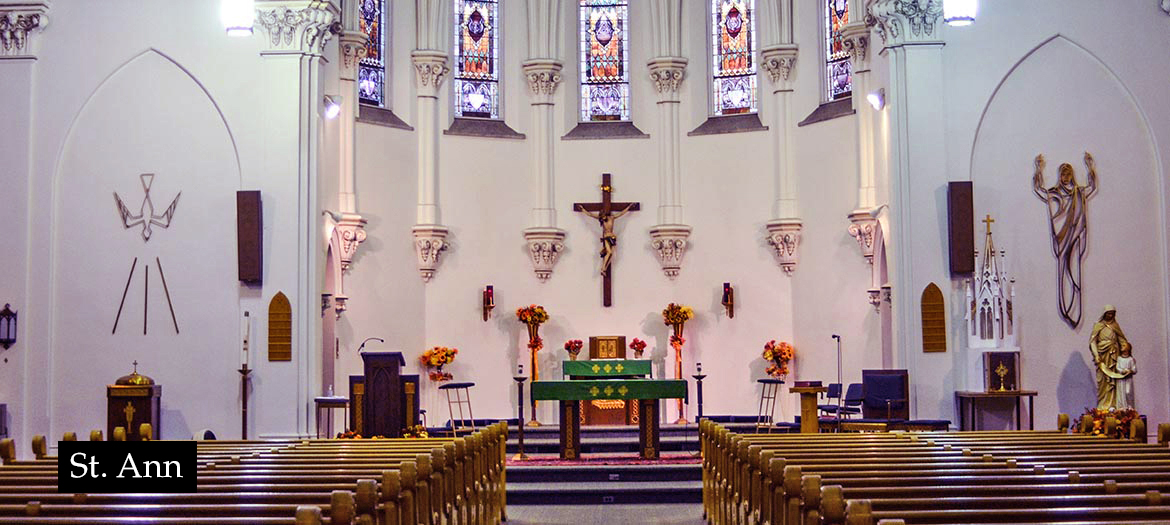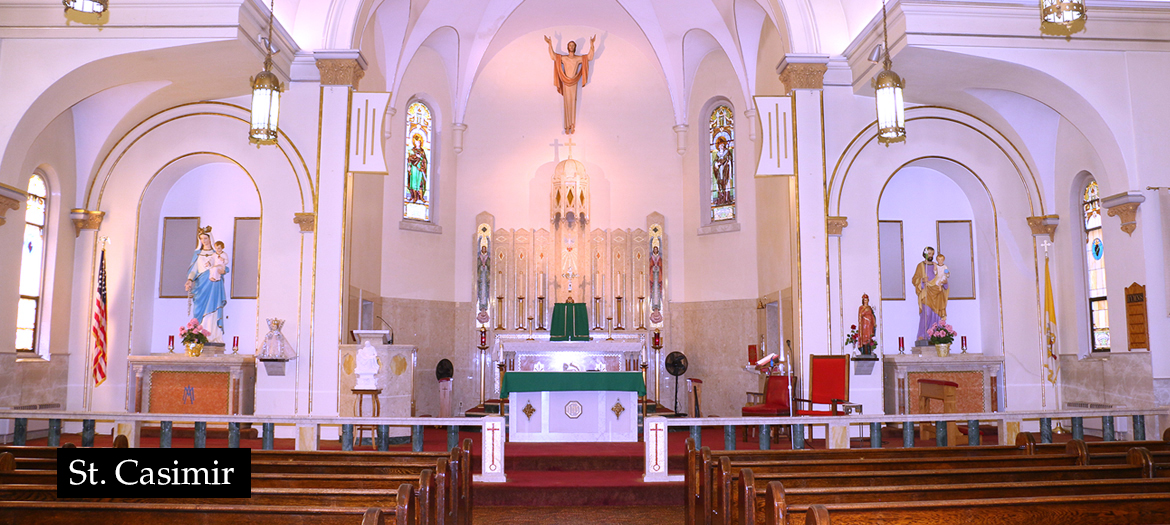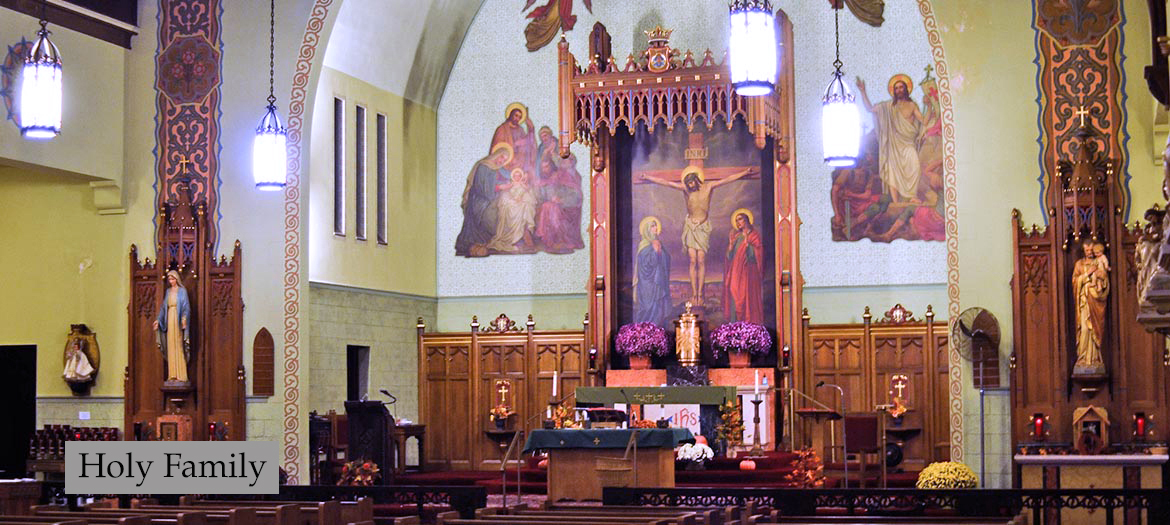 Welcome!
Our Mother of Sorrows Parish is a wonderful welcoming Family of Faith located in Erie, Pennsylvania. Along with St. Casimir, Holy Family and St. Ann in Erie, Pennsylvania, we are a great community with three wonderful places to worship. As the People of God, we rejoice in doing our very best to live and love like Christ! We are committed to loving God, loving others, and making disciples. Founders, long-time parishioners, newcomers, and those visiting the area are all welcome. May the Lord's every blessing be yours today and always!


From Deacon Jerry

Current Sunday Mass Schedule

9:30 AM (Traditional Latin Mass) at St. Casimir Church with confession available before each mass
11:00 AM at St. Casimir Church with confession available before each mass
Weekday Masses are 12:05 PM, Monday - Friday at St. Ann's with confession available before and after each mass Traditional Latin Mass on Wednesdays at 5:30 PM at St. Casimir Church, Erie. First Saturday Mass at 9 AM at St. Ann's on the first Saturday of each month.


Thanksgiving Day Mass will be at 10am at St. Ann Church.


Experience reconciliation at 'The Light is on for You'
Parishes in Erie County will be open for the sacrament of reconciliation Wednesday, December 9, from 5 to 7 p.m. This is an opportunity for people who have not gone to confession in a long time or who have been away from the church to return and experience Jesus' love and forgiveness. Confessions in our parish will be at St. Ann Church. The Light is on for you!
#iGiveCatholic begins on December 1st
Please consider making a gift through #iGiveCatholic to assist our parish. To donate visit https://erie.igivecatholic.org/ SEARCH for and SELECT our parish. CLICK on the GIVE BACK button and you will be directed to a secure donation screen. Your gift makes a critical difference. May God bless you!
Jesus Christ is Our King
The feast of Christ the King is a relatively new one. It was created by Pope Pius XI in 1925 at a time when the world was in turmoil. Mussolini was head of Italy, the Nazi party was growing in popularity, the world was in the Great Depression and secularism and atheism were rearing their heads. Yet in spite of all those dictators and false values, Pius wanted to remind us that Christ is King of the universe.
The feast then addressed a very fundamental question that existed in broken times: Who exercises dominion over us and what rules our lives.
We can safely say that the world is still in turmoil as it was in 1925 when this feast was created. Perhaps the circumstances are different.
How is Christ a king? Not by sitting on a throne but rather by hanging on a cross. Not by amassing territory and great wealth but by establishing a kingdom of mercy and forgiveness. Not by wielding power but rather by welcoming and forgiveness
In the end all that will matter is how we have served our King and our neighbor. We will not be asked how much we made, how many awards and degrees we earned, how popular we were, and so forth. What will matter, as Jesus reminds us in the Gospel is that "You did for me!"
What makes Christ our King is that he gave his life for others and he asks each of us to serve his kingdom by serving others do the same in service to others.
When we help the homeless – you did for me!
When we visit the sick – you did for me!
When we console those in distress - you did for me!
When we put aside our bitterness, anger, envy and anything that divides us – you did for me!
It is through this self-giving that we overcome the things that want to exercise dominion over our lives
As we conclude the current church year and enter next week into the season of Advent we can pause and look back over the past year, one that has been chaotic and unsettled beyond our imagination, and revisit the question that Pope Pius stirred when he created this feast: what is ruling our lives? May we cast aside false values, guilt, or anything that is ruling our lives and let Christ our King have dominion over our hearts
Livestreamed Masses throughout the Diocese of Erie: https://www.eriercd.org/livestreammass.html

Please Remember to pray Bishop Persico's "Prayer in Time of Pandemic" every day at Noon or whenever you can. It is especially important to continue this prayer as it appears cases are once again on the rise! A link to the prayer is at www.ErieRDC.org.
Mass Times
Daily:
St. Ann: Monday through Friday 12:05 p.m.
Saturday:
4 p.m. at St. Casimir
Sunday:
St. Casimir 11 a.m., (9:30 a.m. Latin Mass)
Confessions:
St. Ann: Monday through Friday at 11:30 a.m., first Saturday at 8:30 a.m.; St. Casimir: Sunday at 9 a.m.
Holy Day Mass:
Call the parish office at (814) 452-4832
Holy Day Vigil:
Call the parish office at (814) 452-4832